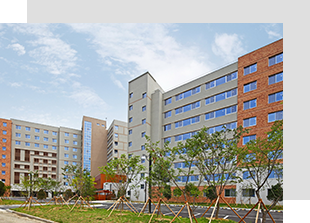 UG Housing Facilities
현황

이 테이블은 생활관 현황을 나타냅니다.

| Category | Full capacity | Administrative office | Washroom&Shower | Self-laundry room | Study room | Weight room |
| --- | --- | --- | --- | --- | --- | --- |
| 2 buildings | 890 people | 1 (A building, 1st floor) | Each room | 4 | 4 | 2 |
Distributed supplies per a room
개인별 지급품목 및 수량

이 테이블은 개인별 지급품목 및 수량을 나타냅니다.

| Item | Desk | Chair | Bookshelf | Closet | Bed |
| --- | --- | --- | --- | --- | --- |
| Quantity | 2 | 2 | 2 | 2 | 2 |
| Item | Mattress | Key | Air-conditioner | Bedding | |
| Quantity | 2 | Digital door lock | 1 | Rentable(20,000 won/month) | |
Support system
A dorm manager is responsible for each dormitory, and the manager's office is located at the front entrance of the dormitory A building.
Eligibility for House admission
Double occupancy basis
For regular semesters, all undergraduate students are eligible for dormitory admission; however, admission may be restricted depending on room capacity and the occurrence of natural disasters.
Admission may be allowed with additional dormitory fees even for those who enroll in excess of four years depending on dormitory capacity.
In principle, the period of occupancy shall be for the regular spring and fall semesters (seasonal semesters are not included). However, if there is a valid reason, the student may stay in the dormitory during a vacation period with the prior approval of the housemaster.
Note
Due to safety concerns, the following items are not allowed in the dormitory.
주의사항

이 테이블은 주의사항을 나타냅니다.

Category
Heating equipment
Cooking equipment
Sound equipment
Lighting equipment
Others
Item
Electric blanket, electric linoleum, fan heater
Burner, Cooker, Coffee pot, Toaster, Frying pan
Sound equipment
TV and Audio Systems
Fan, Hair dryer, Refrigerators of less than 100L, 1 per room
Electric extension cords
Allowed
/disallowed
Disallowed
Disallowed
Allowed
Allowed
Allowed
Approved model equipment
When using items not specified, get permission from housemaster. Get a sticker from the Section of Student Services for electric items permitted. Return poor electrical cords for instance, items with no KS marks or exposed wires.
Devices older than a reasonable time of use are not allowed
Prevent fires through safety awareness concerning electric items.
Check-in and Check-out
Check-in procedure
Regular semester (Spring/Fall)

Apply through ZEUS during the dormitory application period → Confirm room assignment → Check-in

Vacation period (Summer/Winter)

Residency application → Approval → Dormitory application (via ZEUS) → Room assignment confirmation → Check-in
Check-out procedure
Check-out inspection (done by the dorm manager's office / GIST House Dormitory student council) → Fill out the check-out form → Submit it to the dorm manager's office → Check-out
Contact
Section of Student Services (T.3606 / E-mail: uhousing@gist.ac.kr)
Dorm manager's office (T.5800)